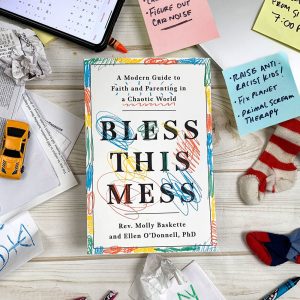 Title: Bless This Mess: A Modern Guide to Faith and Parenting in a Chaotic World
Author: Ellen O'Donnell and Rev. Molly Baskette
Pages: 310
Themes: Parenting, Generosity, Faith, Community, Service, Money, Rituals, Conflict, Family, values
Audiobook: We do not have this book on audio, but it can be accessed through Audible.com.au
Group Reading Guide: The authors have written a reading guide for groups with conversation questions, scripture, activities for families etc https://drive.google.com/file/d/0BxsZvSoHlzJSY1JobmdiU0dPMW5helR5dWFHSGpvUzhfNllR/view?usp=sharing
Description
I (Darren) love love love this book, I've explored parenting books for a while now, and have struggled to find parenting book that comes from a faith perspective that has come from a progressive faith stance.
And suddenly I have two!
Bless This Mess is written by a pastor and a child psychologist, who after noting the dearth of progressive christian parenting resources decided to write one of their own.
The book explores family rituals, spirituality and parenting, sexuality, ethics, gratitude and many other areas of faith and family life. Offering practical resources, story telling, humour and truth telling alongside research based understanding the authors have written a book I can wholeheartedly recommend to all parents, carers and grandparents.
Get to know the authors:
Website: https://www.blessthismessparenting.com
Podcast:
Molly & Ellen speak to the Pulpit Fiction Podcast about the book Bless This Mess
Ellen & Molly speak to Scott Jones on the Give & Take Podcast about the book Bless This Mess
Video:
Molly leads the congregation at First Church Berkely, CA. Her sermons are regularly uploaded to the church youtube page.