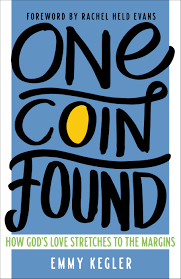 Title: One Coin Found: How God's Love Stretches to the Margins
Author: Emmy Kegler
Pages: 209
Themes: scripture, story, equality, exclusion, inclusion, acceptance, personal memoir, testimony
Audiobook:  We do not have this as an audiobook
Description
Emmy writes this book which is both memoir and exploration of scripture as a queer woman, a Lutheran pastor, a prophet and a story teller with a passion for the gospel, and for the god of the scriptures who accepts and loves us all.
As she shares her own story Emmy delves into scripture and creates a beautiful space for all to hear that there is most definitely a space for them in the story of god in the hope that each of us may also be found by a love that is invitational, merciful, healing, divine, expansive and unconditional.
If you've ever found yourself being pushed to the edges of community, or of the church this book will be a breath of fresh air.
Get to know the author:
Website: http://emmykegler.com
Podcast:
Emmy Kegler on her book One Coin Found on the Her Story Speaks Podcast
Emmy Kegler on her book One Coin Found on A People's Theology Podcast
Emmy Kegler speaking to the Queerology Podcast
Video:
Emmy Kegler on her book One Coin Found on the Love, Rinse, Repeat Podcast