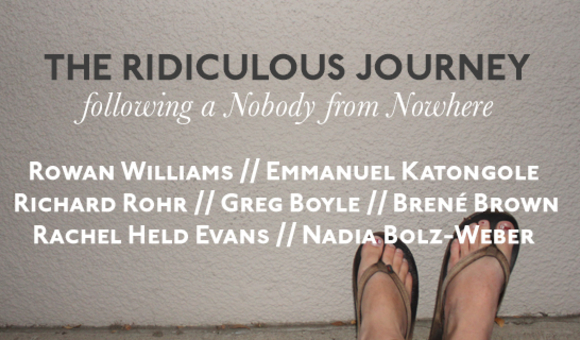 People can use this series as an individual, adding it to your daily or weekly devotional space, as a couple, with a friend, partner, lover or spouse or in a group setting, allowing space for conversation and prayer together.
This series of videos comes from The Work From The People, we have a subscription to their catalogue and have made a number of the films available with discussion/reflection material for people to use in their faith formation. Please do not distribute the films beyond the GUC community, or upload to youtube or facebook.
A search for purpose and meaning in the events and choices of our lives. A costly journey with an unknown destination. A Middle Eastern homeless man from twenty centuries ago and why he still stirs the souls and imagination of so many.

This 6-session series on Jesus' invitation to follow him includes films by Nadia Bolz-Weber, Greg Boyle, Brené Brown, Emmanuel Katongole, Rachel Held Evans, Richard Rohr, and Rowan Williams, visual liturgies from Kelly Stewart Hall, Thomas Merton, Travis Reed, and Ann Voscamp and reflections by Rich Nelson.
Discussion Guide:
A guide is available to help you process the videos with resources, questions and ideas for reflection, for a copy of the discussion guide please contact Darren Wright.
Sessions: (Click on Link To Access)
The videos are password protected, as per the distributor's request, for access to the password please ask Darren Wright.
Session 01: – The Ridiculous Journey
The Jesus Strategy with Greg Boyle
The Merton Prayer with Thomas Merton
Session 02 – The Revolutionary:
Personal Relationships with Jesus with Nadia Bolz Weber
A Humble Call with Ann Voscamp
Session 03 – The Lover:
Love Made Flesh with Brene Brown
Everything Is New with Travis Reed
Session 04 – The Sage:
The Way The Truth The Life with Rowan Williams
To Rise Above with Kelly Stewart Hall
Session 05 – The Presence:
The Human One with Richard Rohr
I Am Present with Kelly Stewart Hall
Session 06 – Following Jesus:
Risking It On Jesus with Rachel Held Evans