Title: God Attachment: Why You Believe, ACT, and Feel the Way You Do about God
By: Tim Clinton, Ed.D.; Joshua Straub, Ph.D
Format: Paperback
Number of Pages: 256
Publisher: Howard Books; Reprint edition (November 29, 2014)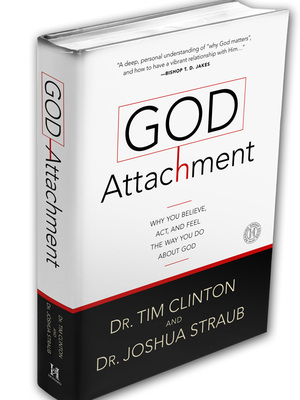 God. Whether one loves him, hates him, denies or defies him, it is hard to deny the worldwide fascination with God. This book explores why and suggests a personal response to the God Attachment in all of us.
Why has the human race, the world over, been so fascinated with…some might say obsessed with…God? This built-in attachment to God crosses religious, political, ethnic, cultural, and generational barriers.
Drs. Clinton and Straub reveal fascinating research about this worldwide phenomenon. From avoidant, anxious, and fearful to secure and personal, the range of responses to our internal attachment to God has a profound influence on the way we do relationships, intimacy, and life choices.
With helpful self-assessments, intriguing questions, and surprising revelations, this book moves from worldwide statistics to personal challenge, offering the means to become securely attached to God in a way that can have positive effects on our attitudes, approach to life, and overall life satisfaction.
Author Bio
Tim Clinton, Ed.D. (The College of William and Mary) is President of the nearly 50,000-member American Association of Christian Counselors (AACC), the largest and most diverse Christian counseling association in the world. He is Professor of Counseling and Pastoral Care, and Executive Director of the Center for Counseling and Family Studies at Liberty University. Licensed in Virginia as both a Professional Counselor (LPC) and Marriage and Family Therapist (LMFT), Tim now spends a majority of his time working with Christian leaders and professional athletes. He has been married 30 years to his wife Julie and together they have two children, Megan and Zach.
Joshua Straub, Ph.D. has served on the executive staff for the American Association of Christian Counselors (AACC) for the past five years and is an adjunct professor at Liberty University. Having served either as a counselor, professor, or pastor since 2000, Josh now spends his time training and speaking to Christian counselors, pastors, and lay leaders across America for the AACC, Acquire the Fire conferences, and local churches. He specializes in attachment research, crisis and trauma, the Millennial Generation, and on cultivating healthy relationships both with God and others. Josh is married to his beautiful wife, Christi.