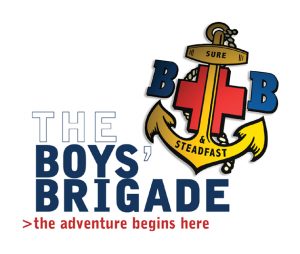 Boys Brigade – Where Adventure Begins
Gungahlin Uniting Church runs 8th Canberra Boys Brigade as part of its mission to youth in the Gungahlin & Belconnen area.
Boys' Brigade is a global Christian youth organisation operating in 60 countries. It began in 1883 in Scotland and in Australia 10 years later. It has been operating Canberra since the 1950s. Ours is one of three Boys Brigade groups in the ACT. We have been operating for over 10 years.
We are an organisation with Christian foundations that is created for boys but open to all young people between 6 and 18 of all backgrounds, abilities and interests. Boys' Brigade originally borrowed some concepts from the military but is in no way a military organisation.
Boys' Brigade is about providing young people with a mix of fun, adventure and challenge. It mentors and empowers each person to reach for their potential. It builds their resilience and enables them to find their place and purpose in today's ever changing world.
It uses a development and awards program covering spiritual, physical, social and educational achievements.
It is a place where young people can come along and do fun stuff, learn new skills and make friendships. We encourage boys to bring their mates to share in the experience. In addition to our regular weekday meetings boys are given the opportunity to attend weekend camps, expeditions and games competitions.
Boys' Brigade is also committed to training future leaders. Older boys are given the opportunity to attend leadership training courses and take on leadership responsibilities within the group.
Boys' Brigade does have a uniform that the boys are expected to wear. The uniform has changed over the years and we now opt for a more contemporary form. The purpose of the uniform is to build a sense of commonness and belonging and reinforce equality among members. There is also evidence to suggest that organisations that wear uniforms are more caring to their colleagues and peers.
We encourage parents to become involved, to share their skills and experiences and to build relationships with their children.
We meet on Wednesday nights during school term at
Gungahlin Uniting Church and Community Centre,
108 The Valley Ave, Gungahlin, ACT.
We start at 6:30pm and finish between 8-8:30pm depending on age.
We partner with Girls' Brigade which meets next door at the Northside Salvation Army Church. They meet on the same night and time as us. You can drop your children off, go out for dinner or coffee, or if you wish you can stay in the Church foyer, have a tea or coffee and meet with other parents.
Boys' Brigade is a not-for-profit organisation. We do have a number of ongoing running costs including insurance costs, consumables and equipment. We attempt to keep our fees reasonable.
All our leaders are volunteers; it is a requirement of our group that all leaders are committed Christians and active members of a church. The group leader is directly appointed by the Gungahlin Uniting Church and is accountable to both the Church and to Boys Brigade Australia. Our leaders are passionate about what they do and committed to the boys and to Boys' Brigade. All our leaders are required to hold a current Working with Vulnerable People Card and to undertake Safe Environment Training.
We welcome people to come along and try us out. Try us for a few weeks with no obligation. We are happy to answer any questions you may have.
Bruce Warren (boys.brigade@gungahlinuniting.org)
Ph: 0450 356 147