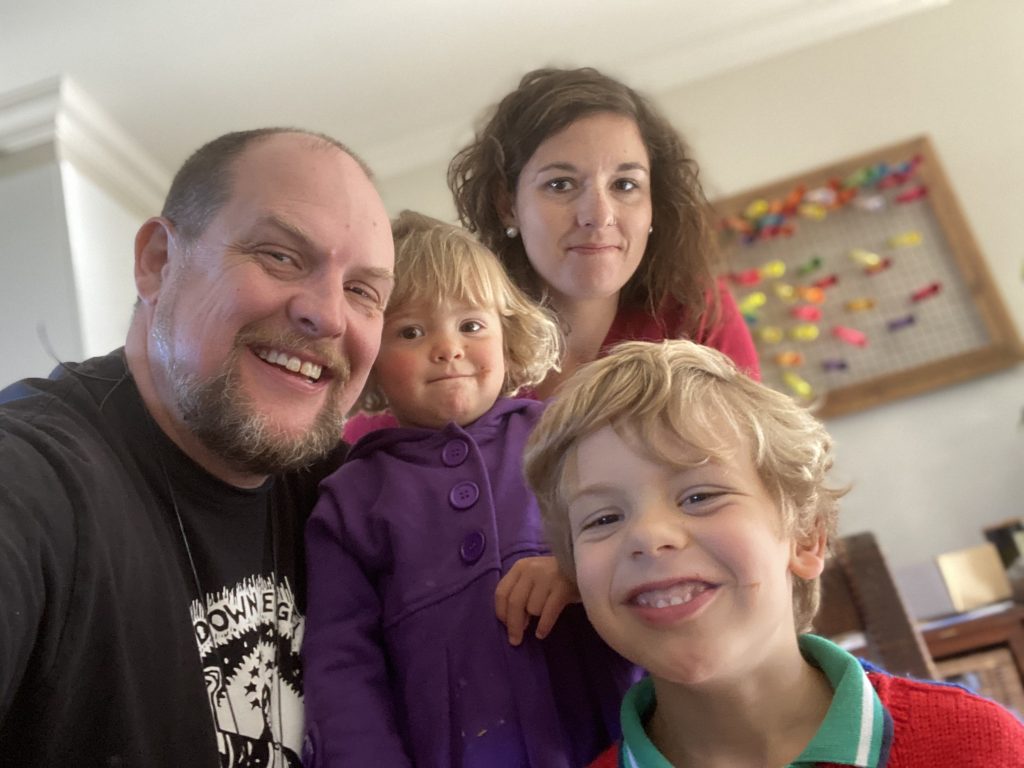 Well, that went seamlessly…
Hi everyone, so, the live stream extravaganza didn't work out the way we planned. We'd not aimed at perfect; chaotic, noisey, energetic sure, but not perfect. We knew our kids and tech were all elements of possible chaos, but we're not kicking the kids out of the house so daddy can worship. Who'd have thought that was the audio that'd fail (honestly, it worked at 12, 1 and 2am last night) and the kids would be… themselves and completely save me? 
What we did get was an amazing whack over the head from God telling me that no matter how late at night I stay up and no matter how many times I preview and trial the online stream I should just be honest.
And honest is hard to do, it's hard to be, especially when you're supposed to put out an image for people of holy, leader material, all together… After all, isn't that what you call me for? To be the perfect leader so no-one else has to be?
Here's the reality though, honest is really hard and it'll likely mean your son picks his nose on a live national viewed stream and you accidentally rewrite the Lord's Prayer as you hug said child in prayer while the other jumps on a sofa.
You do not need to put on a show to be loved.
You do not need to be the picture perfect image to be a leader in our church.
And no matter who you are you are welcome here, and I don't just mean whatever your language, your culture, your age, your sexuality or gender.
I mean you don't need to hide who you are, when we do gather you do not need to put on an image of whatever your idea of "perfect" may be. We will worship together in chaos and with joy, we will worship together in times of pain and lament together.
But we're not going to aim for perfect.

So be prepared, it is very likely that we will disappoint you at times.
So, if you missed the live stream today you can access it here, no, it's not what we planned (though I'd love to say it was completely scripted).
And after it are some of the videos (plus two trial videos of Holly and I singing before we decided we'd do the music live because, well… our pitch wasn't perfect).
May your week be a blessed one and may you find Jesus in the places he always told us he'd be, with your neighbour, the poor, the naked, the imprisoned, the refugee, the hungry, the sick, the lonely and the grieving.

All the video that was going to be in this Sunday's live stream is now on our website including all the video that we'd cut because we preferred to do it naturally.
Today's Blessing…
May this week find you staring at the sky, not looking for Jesus, but at the Beauty of God's creation.
May this week find you seeing Christ, not in unexpected places, but expected places, with your neighbour, your colleague, the person who serves you at the supermarket, in the kids playing soccer on your street and in the conversations you have with 2 or three others.
May the peace of God, the breath of Christ and the anticipation of the flames of the Holy Spirit be with you all.
Go in peace


Darren Wright
Live Worship form May 24, 2020
What didn't make the stream…
After the massive audio/tech failure and we went to the iPad and went completely off script. Completely… all my script was on the iPad, which we now were videoing from, you didn't get anything scripted… Just honest.
Welcome
Sing Praises With a Psalm
From Rev Sarah Agnew, Wesley UCA, Forrest ACT
Bible Reading – Acts 1:6-14
Kanthi leads us in reading the scripture for today.
Prayer of Confession
From Rev Yvonne Ghavalas, Riverina Presbytery
Prayer of Intercession & Lord's Prayer
With my son (Theodore)
The Light
The kids and I sat down with the plan to share a story with you all, we decided after editing the heck out of it that it was too long for the service, but you may enjoy it at home anyway.
Some singing…
And here are a couple out takes of Holy and I singing out of key that we decided early on not to use, but what the hey, why not lean into the not being perfect motif of the day?