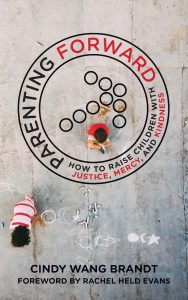 Title: Parenting Forward
Author: Cindy Wang Brandt
Pages: 169
Themes: Parenting, Spirituality, Justice, Racism, Raising Children, Sex, Gender, Inclusion, Environment, Equality.
Audiobook: We do not have this book on audio, but it can be accessed through Audible.com.au
Cindy writes a great little book written with the aim to help people, (parents, grandparents, carers…) raise children in today's world with core values of kindness, mercy and compassion.
The book offers a vision of parenting that sits with a more progressive understanding of faith, one that embraces gender equality, challenges racism, inspires the imagination and dreams of a world where we can hope our children will one day live.
I really enjoyed this book as a parent, as a pastor and as a person of faith, the stories she tell ring familiar and the challenge that her book offers is strong but possible.
Get to Know Cindy before (or after) reading the book:
If you'd like to know more about Cindy before delving in to the book you can see her on the Love, Since, Repeat Podcast in a video interview exploring her book here Cindy Wang Brandt on her book Parenting Forward https://youtu.be/aVsuyefRtws
You might also want to check out her Parenting Forward Podcast https://cindywangbrandt.com/parenting-forward/
Cindy's website is: https://cindywangbrandt.com