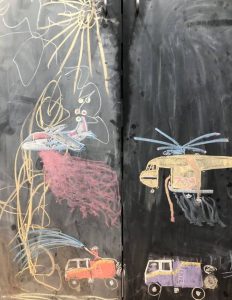 Children can respond to disasters such as bushfires and floods in a number of ways, our son has recently started inserting fires into his creative play, smashing down lego creations as "fires" come to destroy everything.
It may be comforting to know that this is entirely normal behaviour, kids often process big emotions and issues through play. Perhaps you've noticed your children processing their feelings, how are your children/grandchildren processing the bush fires we've been experiencing for several months?
The disaster is hard to avoid, and you can't ignore them, if you've experienced an evacuation, had your home or community destroyed or, if you've been breathing in the smoke for several weeks your children/grandchildren would have experienced it too.
It may be the case that you're struggling to find ways to support your children or grandchildren at this time, being there is of utmost importance, showing them you're with them is of utmost importance, everything else flows from being present.
What follows are some articles and resources which I hope can help you think through how you work through these big feelings and issues together.
If you find any of these helpful, or if you've used other resources please let us know.
Kinderling – Helping Kids Cope With Bushfire Stress
Link: https://www.kinderling.com.au/news/how-to-help-kids-cope-with-the-stress-of-the-bushfires
I'll start with resources from Kinderling, (via Babyology) Initially they link to an episode of the Feed Pray Love podcast focussing on "helping children cope with fires" in which Margaret Nixon, the workforce officer for the National Workforce Centre for Child Mental Health discusses how parents (and grandparents) can help children during this emergency.
They then list a number of ways to support children through the stress brought out by the current bushfires:
Being there matters most
Children need reassurance and information
Creating new routines
Watch out for stress signals (in which they list a number of trauma responses)
Look out for silver linings together
Keeping kids safe from media coverage
Unicef – How to Talk to Your Children About Australia's Bushfire Emergency
Link: https://www.unicef.org.au/blog/news-and-insights/january-2020/how-to-talk-to-your-children-about-australia-s-bushfires
UNICEF have a great article exploring how to talk with children overwhelmed by Australia's bushfire emergency.
"UNICEF's years of experience in providing counselling and emotional support to children impacted by disaster tells us that children and young people respond differently to disaster than adults."
Their list gives a number of tips for discussing the bushfires with your children, grandchildren, nieces and/or nephews:
Focus on the child, not the distress
Be honest, explain the truth
Offer reassurance
Help children get back to their normal routine
Show them all the good people trying to help
Show them they can help
Take care of yourself
The Conversation – Bushfires Can Make Kids Scared & Anxious: Here Are 5 Steps To Help Them Cope
Link: http://theconversation.com/bushfires-can-make-kids-scared-and-anxious-here-are-5-steps-to-help-them-cope-126926
The Conversation has a great article by the people behind the Bounce Back program ( https://www.bounceback-program.com ) on building resilience and lessons learned from working with students after the 2009 bushfires in Victoria.
Resilience is the capacity to bounce back after hardship. To help your child bounce back, you can communicate that:
Life is mainly good but now and then everyone has a difficult or unhappy time
Although things aren't good now and it might take a while to improve, it's important to stay hopeful and expect things to get better
You will feel better and have more ideas about what to do if you talk to someone you trust about what's worrying or upsetting you
Unhelpful thinking ("our family will never get a nice home again") isn't necessarily true and makes you feel worse
Helpful thinking ("it might take a while to get our home back again but it will happen") makes you feel better because it is more accurate and helps you work out what to do.
Birdie's Tree – Growing Together Through Natural Disasters
Link: https://www.childrens.health.qld.gov.au/natural-disaster-recovery/
Birdie's Tree is the work of the Queensland Centre for Perinatal and Infant Mental Health. The website includes:
Therapeutic online games for children to play online (building a face, colouring in, singing songs…)
Story flipbooks of Birdie and her friends experiencing natural disasters (fire, cyclone, floods, drought, sickness…). These stories can be read as families or in the classroom.
Information and resources from the Child and Youth Mental Health team from the Queensland Hospital on recovering together through different natural disasters.
A Curriculum for teachers and carers to help infants, young children and families recover emotionally from the 'big feelings' a natural disaster can cause.
Emerging Minds – Community Trauma Toolkit
Link: https://emergingminds.com.au
Finally I've recently been introduced to the Community Trauma Toolkit from Emerging Minds, I've not had any time to really check it out, but it's come from a reliable source.
"This toolkit contains resources to help and support adults and children before, during, and after a disaster or traumatic event. It will help you understand some of the impacts of disaster and how you can help lessen these impacts.
Emergencies and disasters are extremely stressful and it is normal to feel overwhelmed. Children, even infants, can also be affected. They depend on the adults around them for safety and security, and will need reassurance, care, and opportunities to share their feelings. These resources provide a starting point for you to help children navigate the different stages of a disaster."